Meet Dana of What the Frock? She's fabulous AND she's about to introduce us to Rosemary Honey Goat's Milk Gelato…Really Dana? I'm dying over here! Thanks!
Hello, Glitter and Ganachers! I'm Dana from What the Frock? and I was so excited when Tabitha asked me to represent Philly in her city gift series. I'm a proud Philadelphian born and raised, and I can't wait to share some of our greatest gifts with all of you.
1. Capogiro Gelato
Just a few weeks ago, National Geographic named Philly gelateria Capogiro the best ice cream in the entire world. My own opinion? Well, a few weeks ago, I spent a week in Italy where I ate gelato every single day (don't judge) and went to Capogiro the day after I returned home. And guess what – Capogiro was far superior to anything I ate in Italy. The flavors are unique, artisanal and droolworthy: including Rosemary Honey Goat's Milk, Spicy Chocolate, Mascarpone with Heirloom Apple and Madagascar Bourbon Vanilla.
The best thing about Capogiro: they deliver, y'all! So you can place an order and have it sent anywhere in the U.S.! Believe me, whoever gets this as a gift will love you forever.
2. DiBruno Brothers Cheesebox
DiBruno Brothers
started out as a small Italian grocery in 1939 and is now one of the top gourmet groceries in the city. I love stopping by their new Rittenhouse Square location for a flavored coffee or another tasty snack. They offer some amazing
gift sets
– we bought one for my
very
Italian mother-in-law, and she was incredibly impressed. My favorite gift set is the
Cheesebox Grandioso
, which, in addition to having a rad name, is
incredibly
delicious. Che buono!
3. Philadelphia Subway Art
If you're looking for a gift for a Philadelphian (or Philly ex-pat), I think that some subway art would be an awesome gift. Here is my favorite from Etsy.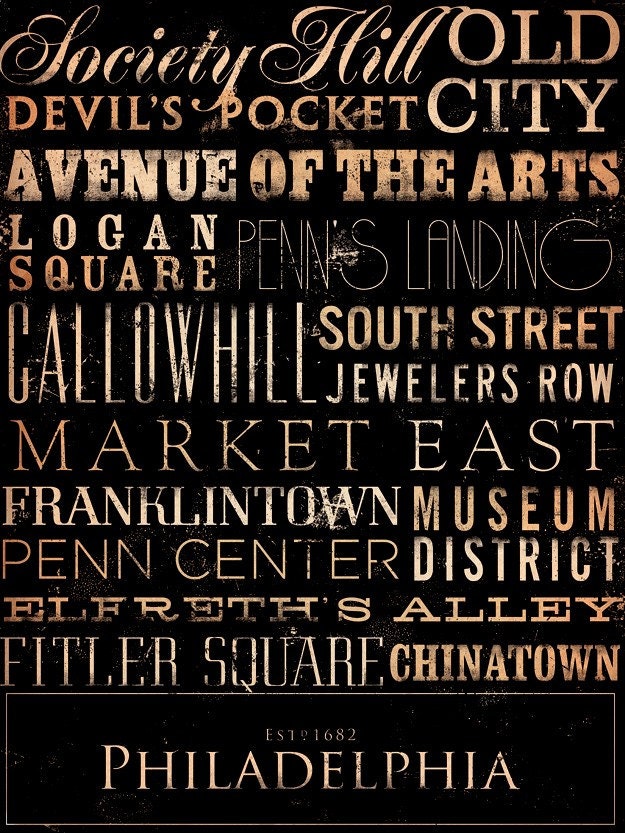 4. Prints from You Wanna Talk Jive
Local Philly artist (and my friend) Shannon Collins creates these absolutely adorable animal prints, which she sells in her Etsy shop.
She even does custom pet
illustrations
. Now
that
is a fantastic gift, no?
Is anyone out there from Philly? Which Philly gifts would you recommend?